Being passionate about travelling by motorcycle, always looking for new areas to explore and whether you decide to travel with us for a week or a longer period, our aim is to give you a genuine overland experience, off the beaten track and packed with adventure!"
We believe that adventures can change lives. We have seen it happen! Motorcycling is about giving you the feeling of ultimate freedom and flexibility. So within our itineraries, you can join the tour leader but you are also free to ride at your own pace, in your own way and decide where and when to stop. All the rest is being arranged, so no worries about where to stay or what if something goes wrong.
We want people who spend their lives in meetings and work with computers, to meet people with wonder in their eyes. Who are living off the land. People who are happy. It's humbling and inspiring. Our trips are an antidote to modern life. We don't need the flat screen TV. We need real relationships, to talk to people, look them in the eye. Our adventures are about more than adrenaline. More than just passing through.
We believe in ethical and responsible tourism and travel experiences. With respect for the local people, environment, culture and economy we are visiting.
Don't take our word for it. Visit our testimonials page to read what our customers say about us.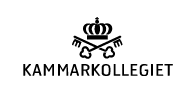 Book with confidence - we are a Swedish based company and your money is 100% guaranteed through a -mandatory by Swedish law- Travel Guarantee from the Swedish Legal, Financial and Administrative Services Agency (Kammarkollegiet).

CHRIS WILTHUIS - FOUNDER / TOUR GUIDE
Combining two passions: traveling and riding a motorcycle. An unbeatable combination that led me to more than 60 countries by motorbike the last fifteen years. The feeling of freedom and really being in the present when my bike, the road and environment are in harmony with each other, is what I enjoy most. Traveling means to me to broaden my horizon, deepen my perspectives and meeting the unknown and new people. To experience a wide variety of cultures, lifestyles, scenery and adventure, and of course to go for a ride!
In 2011 I ended my 16-year career as an officer in the Royal Netherlands Air Force and immigrated to Sweden. After a 6 months journey together with my wife on our two bikes through North- Central and South America,  I decided to take the jump: to combine my passions with my former job experience in the military and more than 20 years of travel-experience around the world. Until now, not a single day of regret and only more eager to explore those hidden gems of our beautiful planet!
LOCAL SUPPORT CREW - LOCAL ACCOMMODATION - LOCAL GUIDES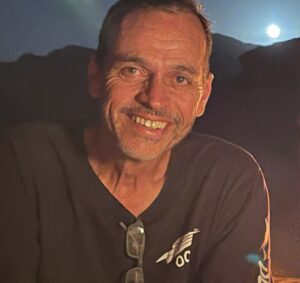 By making use of local support crews, guides and small local (family) businesses and accommodations we try to stimulate the local economy as much as possible.
And not only that: they have often much more knowledge of the area to be explored, which gives us the opportunity to get a more genuine experience!
For example: in Morocco we work together with locally well-known Noureddine Said. He drives the support vehicle during our Morocco tours and maintains (his) the rental bikes. Besides this he knows Morocco as no other!
But we also have Babu and Sahadev in Nepal.
Cuong and Diêp in Vietnam, Pim and George in Uganda, or Werner & Agniezka in South Africa.
We work already for years together and have build up a strong relationship with them.
They are part of the crew!
PAULI JØRGENSEN - TOUR GUIDE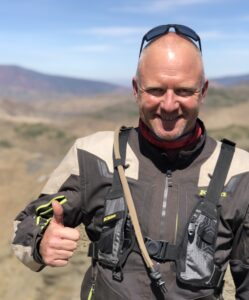 He started his adventure motorbiking career fairly early. At the age of 21 he rode the classical overland route through Europe-Middle East-South East Asia, and all the way to Australia. Since then there has only been one preferred way for him to travel, by motorbike.
From Denmark to Cape Town in South Africa and back, several times the old Paris-Dakar routes through West Africa and of course most of Europe; Balkan, Eastern Europe and Scandinavia more than once.
He has been a certified BMW Motorrad offroad instructor since 2014 and gives offroad courses in Denmark every year.
Put him on a bike in some varied/difficult terrain in good company and you shall hear no complaints.
Motorbiking, travelling and meeting people is what he enjoys most.
RIEN VAN DUREN - TOUR GUIDE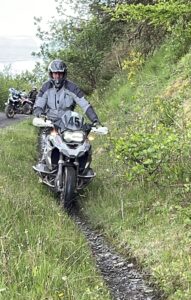 Already from a very young age he got in contact with dirt bikes inspired by his neighbour (Dutch MX champion). Getting his motorcycle license immediately when reaching the legal age instead of his car drivers license, gave him the freedom to go out exploring nature on two wheels.
He used to ride a fully loaded KTM from the back of a Chinook helicopter during his former career in the Dutch Air Assault / Special Forces, but nowadays he's working as a free-lance coach/consultant.
Being retired from the Army means he has more time nowadays to enjoy time with his family and dogs, being in outdoors, and to guide tours for Explore360.
He loves traveling and people. He enjoys making memories and exploring other cultures, nature and connecting with people. With his coaching background he also enjoys guiding people and, where necessary, reflecting on what they're experiencing during our travels and their technical skills.
PIA STEEN PETERSEN - TOUR GUIDE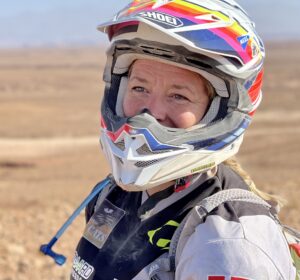 Moving around on two wheels is something Pia always has been very passionate about. Working as a bicycle courier in San Francisco over 20 years ago, she saw the motorcycle couriers and wanted to do the same. Got back to Denmark to become a motorcycle mechanic. Never came back, but has been working as a motorcycle mechanic ever since.
Meeting lots of different bikers meant she got inspired to more than just traveling on a motorbike. She's now into roadracing, off-road, enduro and rally riding with more than 300.000 km in Europe, Africa, Asia and South America.
Pia is very much into inspiring women to the joy of being on two wheels. Teaching beginner ladies off-road skills and fix-your-own-bike-classes. Being around people, motorbikes and traveling is what makes her happy, and gives her energy - so it's seldom you won't see her with a big smile on her face.
ROEL BREMMERS - TOUR GUIDE
On the 17th of May, 2009 he left The Netherlands on his Honda Africa Twin for an overland motorbike journey to Australia. The 37000 Km adventure took him over a year to complete and was the experience of a lifetime. It was great to see all the different countries with their stunning natural beauty but most impressive were all the people and cultures.
"People all over the world were just amazing. The hospitality and kindness of people everywhere was just mind-boggling, especially in the places where the media and our governments tell us not to go. The journey was an eye opener to a beautiful world.
A world everyone should see through his or her own eyes, preferably from atop a motorcycle and not on a television".
Nowadays working as European Manager for Mosko Moto and when not on the road, you can find him on his motorcycle somewhere in Spain where I live nowadays.
AARON MITCHELL - TOUR GUIDE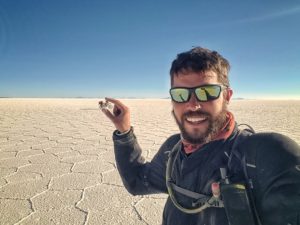 His passion for travel came at a young age and that led him to joining the British Army at the age of 18. Most of his working life has revolved around the military working in various countries such as Iraq, Kuwait and Afghanistan.
He has visited a lot of countries and travelled around the world on two separate trips, the latest returning in 2017 by motorcycle. He left England and pushed East into Siberia and Mongolia to then ship over to Canada and push south through the Americas, returning back to Europe to complete the lap. This solo journey took 505 days completing a total of 52'000km.
When not on motorbikes you can find him out in the mountains climbing or snowboarding. He is English and a huge lover of tea! You can follow his v/blog here >>>
JON HALVARSSON – TOUR GUIDE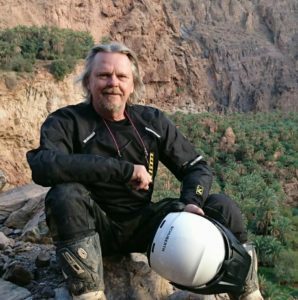 From owner of a gingerbread factory to the mining industry, Jon has done it all and has lots of experience in the Swedish industry on different management positions.
He learned to walk on gravel up in the North of Sweden, but he is even harder to beat on tarmac. On the race track even faster and that is his real passion!
But since he retired early he got hit by the travel bug.
In 2014 he drove with three other guys on their bikes from Sweden via China to Thailand for three months.
Then followed by Kenya and Tanzania, Morocco, Spain, Norway and Iceland.
Nowadays as  a "time-millionaire" he divides his time between his (grand)children, track-racing, enduro riding, hunting, fishing and his work as a tour guide.
ANDERS ARNERYD - TOUR GUIDE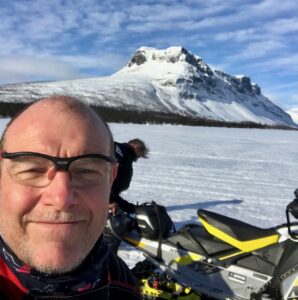 Anders has always been an adrenaline hunter. He has ridden cross and enduro since his early teens, and competed in enduro for about 10 years in his home country. After that career he became more interested in road racing and riding snowmobiles.
He keeps himself busy with road racing at a high level in both Sweden and Europe, where he also helps as an instructor.
In the snow he gained lots of experience during trips throughout Sweden, Norway and Finland, even all the way up to the Barents Sea and Kirkenäs in northern Norway!
After 20 years he sold his constructing company, so he has more time to focus on his passions in the snow and on the race-track and nowadays as well on an e-mountain bike.
He is actually so much into the e-MTB'ing, that he is even involved in building MTB trails in Härjedalen in Sweden, the area where  he  rides his snow-scooter during winter.
SVERRIR THORSTEINSSON - TOUR GUIDE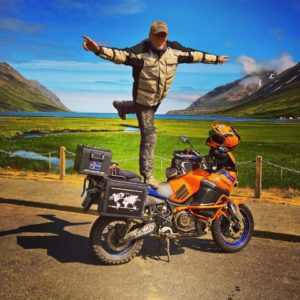 During his normal job he goes around as "The Happy Boss", the owner of Happy Campers, the biggest camper-van rental company in Iceland.
But his real passion is motorbike riding!
Together with his brother he circumnavigated the world already twice. First through Russia and back via the USA. The second time from Alaska all the way to Ushuaia in Patagonia.
There is no corner left on Iceland which he did not cover yet on his bike, -and that many times!
He is always up for adventure and besides that, a hell of a chef and loves cooking.
So you are lucky when he will join the tour !
ELVING SOLLI - TOUR GUIDE

A gravel-guru and a legend in Sweden and Norway amongst off-road enthusiasts! He worked for many years for SMC, the Swedish Motorcycle Association, as tour-guide and a journalist for motorcycle magazines.
Spending time nowadays with his family and grand-children, fishing and of course riding his bike(s) all year around.
With more then 40 years of experience of gravel riding in Sweden and Norway, he knows what gravel riding is all about as nobody else.
There are no secret tracks, water passages or gravel roads for him in Sweden and Norway!
ANNA BJÖRSSON - SUPPORT
Anna has always enjoyed traveling. However, joining up with Chris meant getting introduced into the world of motorbikes, which added another dimension to exploring the world. Whether it's for her work or for pleasure: traveling thrills her!
Since their six months long trip through North, Central- and South America on their motorbikes, she is convinced that riding a motorbike is one of the best ways to discover our planet.
So, as often as possible she will come along as support crew or as one of the riders.