Being passionate about travelling by motorcycle, always looking for new areas to explore and whether you decide to travel with us for a week or a longer period, our aim is to give you a genuine overland experience, off the beaten track and with a healthy dose of adventure!
Motorcycling is about giving you the feeling of ultimate freedom and flexibility. So within our itineraries, you can join the tour leader but you are also free to ride at your own pace, in your own way and decide where and when to stop. All the rest is being arranged, so no worries about where to stay or what if something goes wrong".
CHRIS WILTHUIS
Combining two passions: traveling and driving a motorcycle. An unbeatable combination that led me to more than 60 countries by motorbike the last fifteen years. The feeling of freedom and really being in the present when my bike, the road and environment are in harmony with each other, is what I enjoy most. Traveling means to me to broaden my horizon, deepen my perspectives and meeting the unknown and new people. To experience a wide variety of cultures, lifestyles, scenery and adventure, and off course to go for a ride!
In 2011 I ended my 16-year career as an officer in the Netherlands Air Force and immigrated to Sweden. Being only 39-years 'young' I decided to take the jump: to combine my passions with my former job experience in the military and more than 20 years of travel-experience around the world. Until now, not a single day of regret and only more eager to explore those hidden gems of our beautiful planet!
ANNA BJÖRSSON
I always have enjoyed traveling. However, meeting Chris meant getting introduced into the world of motorbikes, which added another dimension to exploring the world. Whether it's for my work or for pleasure: traveling thrills me! Since our six months long trip through North, Central- and South America on our motorbikes, I'm convinced that driving your bike is one of the best ways to discover our planet. So, as often as possible I will come along as support crew or as one of the riders.
JON HALVARSSON – TOUR GUIDE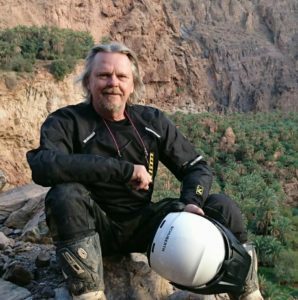 From owner of a gingerbread factory to the mining industry, Jon has done it all and has lots of experience in the Swedish industry on different management positions. He learned to walk on gravel up in the North of Sweden, but he is even harder to beat on tarmac. On the race track even faster and that is his real passion!
But since he retired early he got hit by the travel bug. In 2014 he drove with three other guys on their bikes from Sweden via China to Thailand for three months. Then followed by Kenya and Tanzania, Morocco, Spain, Norway and Iceland. Nowadays as  a "time-millionaire" he divides his time between his (grand)children, track-racing, enduro riding, hunting, fishing and his work as a tour guide.
JES BUUS - TOUR GUIDE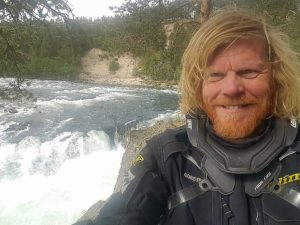 Jes is a two meter tall Viking from Denmark. He loves nature in all its varieties and the challenges it throws at you. That being whether you travel by foot, on a motorbike, by kayak or on a bicycle. He loves the company of positive folks who are always able to make the best of things. Especially in moments where life or travels sometimes turns out differently than planned.
He might be kind and smiling, but years in the military and police has also taught him, when leadership is necessary to make things happen. Forty years on motorbikes and a life with serious memories from what the power of a motorbike can do to yourself, friends and family makes him care and pay attention to the more insecure and untrained in a group. He hates cooking but he loves a good whiskey..
SVERRIR THORSTEINSSON - TOUR GUIDE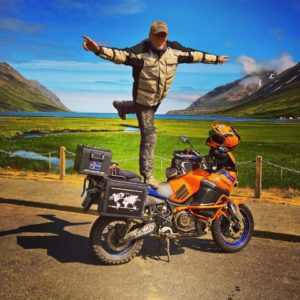 During his normal job he goes around as "The Happy Boss", the owner of Happy Campers, the biggest camper-van rental company in Iceland. But his real passion is motorbike riding!
Together with his brother he circumnavigated the world already twice. First through Russia and back via the USA. The second time from Alaska all the way to Ushuaia in Patagonia.
There is no corner left on Iceland which he did not cover yet on his bike, -and that many times! He is always up for adventure and besides that, a hell of a chef and loves cooking.
So you are lucky that he will join the tour !
LOCAL GUIDES - LOCAL ACCOMMODATION - LOCAL SUPPORT CREW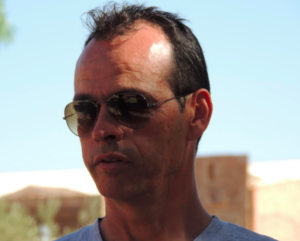 By making use of local guides and small local businesses and accommodations we try to stimulate the local economy as much as possible. And not only that: they have often much more knowledge of the area to be explored, which gives us the opportunity to get a more genuine experience!
For example: we work together within Morocco well-known Noureddine Said (he has his own bike rental shop,  www.loc2roues.com) who drives the support vehicle and maintains the rental bikes. Besides this he knows Morocco as no other!